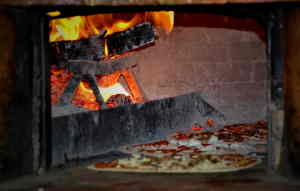 The Bracco Pizzeria offers its customers an extensive menu of delicious pizzas, conceived and created by its Pizzaiolo's fantasy.
The long leavening, the choice of fresh highest quality ingredients and cooking on traditional wood-fired oven are the secrets that make unique and delicious the Bracco's pizza well combined with a fine selection of beers.
The long list of ingredients available also allows the Pizzaiolo to satisfy special needs, performing customizations and meeting the needs of vegetarians and vegans.